Check out all the best things to do with kids in Florida's Indian River County (Vero Beach & Sebastian) as well as some extras in St. Lucie, Fort Pierce and Palm Beach.
McKee Botanical Garden
The McKee Botanical Garden is an unbelievably gorgeous 18-acre tropical hideaway to explore. Little ones will love the giant water lilies, ponds & bridges, arches made out of sticks, and whimsical touches throughout out (e.g. gnomes hiding in the bushes). But real MVP is the Children's Garden! Kids of all ages can explore a discovery tree with a pirate shipwreck, a monkey bridge, a waterlily fountain, fairy forest, and really cool (and shaded!) splash pad garden - don't forget your swimsuits.
Music & Story Time in the Garden for kids of all ages Tuesday and Wednesday mornings 11:00am (free with admission, registration not required)
Mommy & Me Nature Time classes Thursday mornings 10:15am - 11:00am. Ages 18 months – 4 years old. Weekly themes with fun and engaging activities for toddlers. $2 per child, online registration required.
McKee's Garden Discovery Backpack (currently unavailable due to covid). Grab a Discovery Backpack for kids filled with a variety of tools to explore the Garden. Includes a kids map, a compass, a magnifying lens, and education guide. Choose from five themes: Garden Explorer, Things with Wings, It's a Bug's World, Plantastic and Survival: Lost in the Jungle. Covid alternative: a scavenger hunt map for kids offered at admission.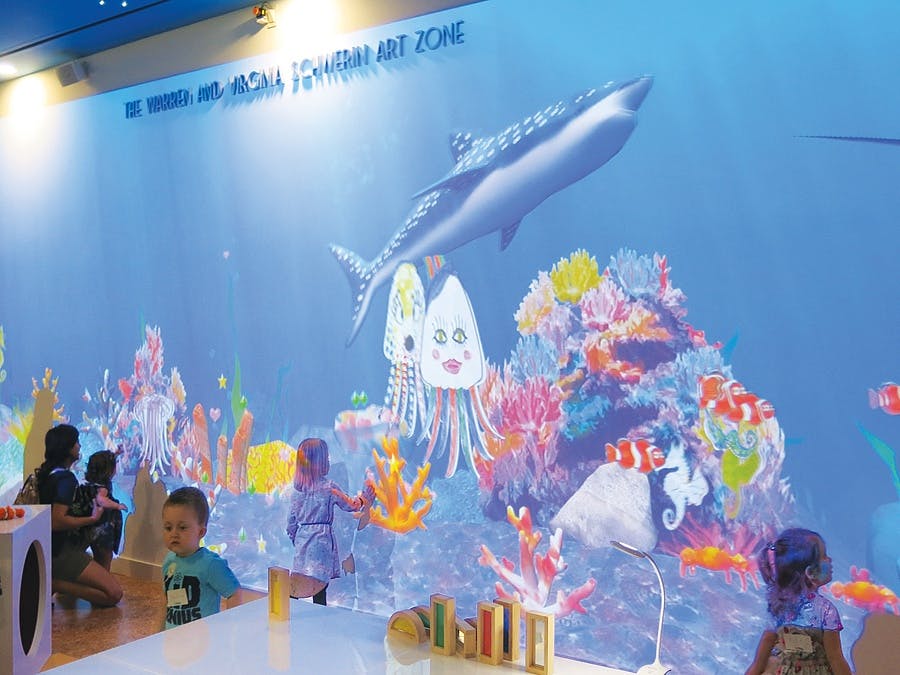 Vero Beach Museum of Art 
Great place to beat the heat with plenty of fun activities for families, including the must-visit Art Zone - an interactive children's space. Features different play areas with hands-on activities including floor to ceiling magnetic and chalkboard walls, climbing furniture, light tables and manipulatives, a mini art-themed library, a starry night sky to learn the constellations, and an incredibly cool interactive sketch aquarium where kiddos can colour in their own sea life and have it scanned, projected and brought to life in the sketch aquarium on the wall. Your kids will flip out when they see their drawings of sharks and jelly fish start swimming around!
Museum Babies & Museum Toddlers - Babies and their caregivers join in art viewing, sensory experiences, and playful learning in the galleries. Museum Babies and Museum Toddlers take place in the museum's galleries and includes an art activity. First Tuesday of every Month. Space is limited; preregistration required. $5 per family.
Museum Stories - A theme-based, participatory program for babies, toddlers, and their caregivers that includes reading books, singing songs, dancing, and creating art together. Museum Stories takes place in the VBMA's Art Zone and includes a take-home activity. Every Wednesday, 9:30-10:30am (0-24 months) and 10:30-11:30am (2-4 years). Space is limited; pre-registration is required. $5 per family.
Museum Studios - Themed, docent-led mini tours of the VBMA's exhibitions and free art activities for kids in the Museum Art School studios. Last Saturday of the Month, 10am-1pm, FREE admission to the museum. Drop in, no registration required.
Children's Art Festival 2023 - Annual celebration of the arts and art making! Enjoy activities such as art hunts, art-making activities in the Museum Art School studios, and music and dance performances by local groups. Saturday, April 29, 2023, 10:00am – 3:00pm. FREE No pre-registration required. 
Environmental Learning Centre
The ELC is a fabulous place for families to explore the Indian River Lagoon and engage in a variety of interactive activities for kids. featuring interactive exhibits, walking trails, and water sports in Vero Beach.
Discovery Station & Touch Tank - Beat the heat at this lovely little interpretative center with interactive exhibits, aquariums and a touch tank where kiddos can touch starfish, crabs, sea cucumbers, and more! There is a small marine-themed library and natural open-ended play materials for little ones.
Boardwalk Trails & Nature Play - Two boardwalk trails take you through the peaceful and partially shaded mangrove forest, leading to an overlook area and lagoon resting point where you can catch a glimpse of dolphins, birds and other marine life. Kids can also free play at the Imagination Station and Nature Playscape that includes some fairy houses and a mud kitchen.
Adventure Backpack & Pond Exploration - Don't forget to grab an Adventure Backpack from the Welcome Centre, filled with all the tools and materials kids need to explore the nature centre, including a magnifying glass, binoculars, identification sheet, and a net to try dipnetting in their pond for marine life (it's filled with fish, crabs, etc.)
Kayak and Canoe - Rent or enjoy a guided kayak / canoe trip through the mangrove forest.
Pontoon Boat Tours - Take the 2-hour long Pelican Island Pontoon Tour along the Indian River Lagoon to Pelican Island National Wildlife Refuge and mangrove islands where birds, manatees, and dolphins gather. Alternatively, little ones love the Spoil Island Splash Tours (only available between April - October) that take you on a scenic ride out to an island where the pontoon stops for exploration and allows time for swimming.
Little Wonders Toddler Nature Classes - Nature enrichment program for children 18 months to 4 years old and their parents. Kiddos will enjoy a variety of different nature activities, including: interactive story time, pond dip-netting and water play, touch tank and Discovery Station, outdoor free-play, mud-pie kitchen, movement in nature, befriending-a-tree activities, outdoor alphabet exploration, nature arts & crafts. Classes are offered on Wednesdays and Saturdays at 9:00 - 10:00 am and 11:00 am - 12:00 pm. $10.00 for Wednesdays and FREE for Saturday Classes. Pre-registration is required.
LaPorte Farms
LaPorte Farms is a unique family-friendly farm run by Sebastian resident Laura LaPorte. There is so much to do for kids and so many different kinds of farm animals & exotic critters to enjoy and feed, including marmoset monkeys, zebra, tortoises, pot bellied pigs, goats, llama, donkeys, tropical birds, chickens, ducks, geese and more.
Pony rides are available daily as well as Storytime every Wedneday at 10am. A reading library also offers kids a FREE pony ride if they read 20 books.
Kids fishing is available (poles, lessons and bait provided) - guaranteed you'll catch a fish.
The farm also hosts a number of amazing annual events, including Kid's Fishing Tournaments, Back to School Family Fun Day, Fall Festival, Spring Newborns, Splash Zone, and more. Admission is donation only!